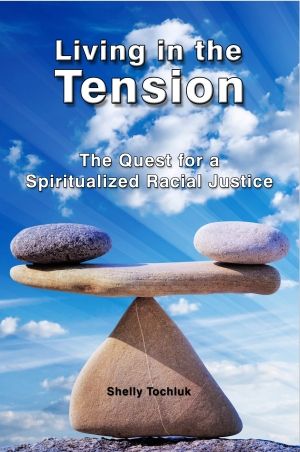 Today more than ever, a focus on healing and contemplative practices is widespread among antiracist people. Many people's sense of spirituality (or religiosity) go hand in hand with their dedication to racial justice. And – spiritual and racial justice values often bump against one another when we attempt to meet the practical demands of today's antiracism.
How do we hold our sense of shared humanity in balance with the need for racial consciousness?
How do we navigate our deep spiritual longing without appropriating the practices of historically marginalized groups?
How do we honor our inner sense of truth and remain accountable to people of color?
Living in the Tension tackles six polarities that pull in seemingly divergent directions and explores what happens if we ignore one side of the equation:
Transcendence and Race Consciousness
Self-Acceptance and Self-Improvement
Personal Healing and Political Action
Common Humanity and Group Differences
Belonging and Appropriation
Inner Truth and Accountability
Each chapter includes how "both/and" thinking can help us hold the polarities in balance.
Individual book orders can be placed at www.cddbooks.com. For group orders, email publisher@cddbooks.com or call 908-241-5439. Prepaid group orders may be eligible for a discount. Allow 3 weeks for delivery. Also available on Amazon.com. (Did you know Amazon allows hate groups and bigots to sell their products? Please consider contacting your local bookseller or library and asking them to carry the book.)
Endorsements
See the full text of endorsements here.
"Living in the Tension explores the complex tension between spiritual practice and social action with thoughtfulness, nuance, and clarity."
"[The book is a] welcome conversation about how we can reawaken our deepest moral traditions to promote inclusion, equity, and address fundamental questions of belonging that embrace our diversity and complexity."
"In these beautiful and wise pages, white allies who have long-labored for the dream of beloved community will find new approaches to the dilemmas that can stymie effective spiritual activism."
"[The book] asks social justice activists to dig more deeply into the personal motivations for our work and the spiritual community to be very clear about our need to be held accountable."
"Living in the Tension [invites] deep inquiry into difference, sameness, spirituality and justice, which inform a quest into the nature of what it means to become fully human."
"[The book] insightfully expands the national dialogue on racial justice and is a must read for anyone committed to contributing to the creation of a world that honors the dignity of all beings."
"[The book] invites us to dive deeply into the shadows of our American psyche, illuminating a path toward the kind of hard-won racial awareness that is so desperately needed in the world today. ….this soul-searching work flushes the deepest wounds of our culture, preparing them, and us, for closer examination, and, ultimately perhaps, healing."
"[The book offers] an example of an individual's personal exploration journey and, should it be mirrored by those in major positions of leadership, we will have a chance to make a much-needed change in the communities we live in and in the world at large."
"[The book is] aimed at those engaged in social justice work, but it will resonate with anyone and everyone who wants to do the right thing in the world."
Book Reviews
The Seattle Globalist, review by Laura Humpf, Founder of Satmato Yoga Therapy
Lucky Altman Lynch, Former director of The National Conference for Community and Justice (NCCJ) – Los Angeles, Currently Training Director of The Kaleidoscope Institute
Start a Workshop / Discussion Group
For a deeper process, read the book along with a group of community members and utilize the free, downloadable facilitation guides, agendas, and handouts. The resources allow groups ranging from 5- 25 people to work through exercises related to the topics discussed in the book.
Click here for the workshop series.
Shelly's Philosophical Foundation
This essay titled Grounding describes my life's philosophical and spiritual foundation. It is so personal that it feels risky to publish it here. However, for those interested in my process, I offer it as a way to expand what feels to me like an essential conversation.